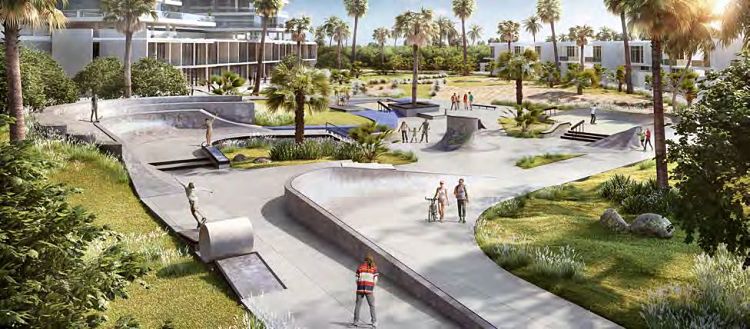 Description
Golf Town at Damac Hills
Enjoy the vibrant community of Golf Town by DAMAC Properties. The stunning golf park views from the 1BR, 2BR & 3BR apartments are breathtaking and will make every day of yours special.
Golf Town by Damac Properties
Golf Town is a residential project by DAMAC Properties offering apartments in the lush community of DAMAC Hills. The residences come in different sizes such as 1-bedroom, 2-bedroom, and 3-bedroom. Situated at a key spot in the international golf community, Golf Town charms you with its exclusive golf views from the apartments and enjoy more greenery every day when you get up in the morning. DAMAC Hills is an indulgent living experience in the center of the city and in close proximity to each essential hubs of Dubai.
Highlights
Ready and spacious golf facing apartments
Pay 20% and move in today
4% registration fees waived*
Choose from a variety of payment plans*
Easy access to Carrefour Market, an events park, tennis court, school, clinic, and more!
Facilities
Trump International Golf Club Dubai with 18-hole championship-standard golf course and par three course
Training academy with hi-tech equipment and pro-shop
Trump-branded and managed clubhouse with fine dining
Supermarkets, pharmacies, laundries, and banks
Quiet and Peaceful
As the legendary real estate developer –Damac- has developed these magnificent apartments, it is not surprising that the interior and exterior design look distinctive.
In terms of architecture of these gorgeous apartments, it should be said that they have been accurately designed in order to suit a luxurious and perfect lifestyle. In other words, the exterior design is quite visually impressive which pleases the eye literally.
The interior design also shows a distinctive appearance where you can experience high levels of tranquility, joy, happiness, and convenience.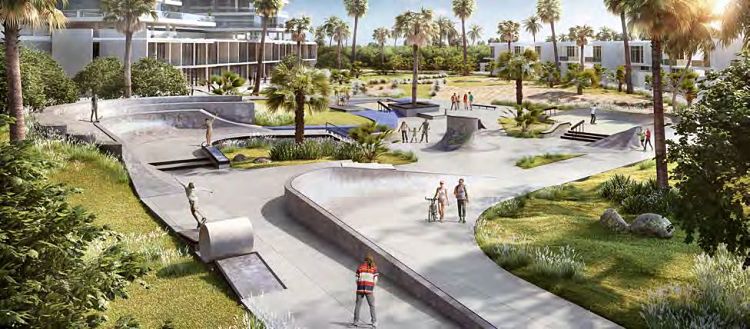 Damac Hills
Damac Hills is considered as one of the most sought-after areas due to the fact that in this area hundreds of adventures are waiting to be caught, and easy and rapid access to any parts of the city is easily possible.
Also, there are a number of shopping, dining and leisure facilities that have been set for you in order to experience high levels of wellness and joy.
Live the LUXURY with DAMAC
Damac Properties is absolutely one of the most familiar names in the pervasive world of real estate that has been developing the most award-winning buildings from any type ranging from residential to commercial and leisure since 2002.
The special art of Damac is not only seen in the UAE but also Damac has artfully created the most singular and exceptional properties in Qatar, Saudi Arabia, Jordan, Lebanon, Oman, and the United Kingdom.
The most significant part of its development is collaborating of this reputable company with the most eminent fashion and lifestyle brands making its developments even more unique. These brands include Versace, Fendi, Just Cavalli, Paramount Hotels & Resorts, and The Radisson Group.
Why choosing Dubai?
Dubai is one of the cities offering distinguishing advantages that barely can be found in other places. For instance, it has ranked as one of the safest cities in the world that its people are among the happiest.
As well as that, this city offers enormous benefits for the residents or investors. For example, tax-free income has been set by the government of the UAE in order for businesses to be more lucrative.
Also, Dubai is a strategic location that is known as one of the most attractive tourist destinations offering an open and free system with world-class infrastructure as well as stable currency.
Affordable do up
As well as any wonderful features of these Golf Town apartments, an easy payment plan has been considered for you to own your dream property as easily as possible, and make buying highly affordable for you. Investing in real estate has never been this easy!
Paint your future with us
Golf Town apartments are of great importance as said earlier due to their incredible location, the distinctive interior and exterior design, the well-known developer and the city where they are located in.
Golf Town gives you a dream property where you are given the opportunity to live your dreams. So, let us know and get your desired home as soon as possible!
Pay 20% and move in today! Own spacious apartments and get 4% DLD registration fees waived*
4 Years Payment Plan
| | | |
| --- | --- | --- |
| Installment | Milestone | Payment (%) |
| 1st Installment | Deposit (Immediate) | 10% |
| 2nd Installment | After 6 months of sale date | 5% |
| 3rd Installment | After 12 months of sale date | 10% |
| 4th Installment | After 18 months of sale date | 10% |
| 5th Installment | After 24 months of sale date | 15% |
| 6th Installment | After 30 months of sale date | 10% |
| 7th Installment | After 36 months of sale date | 15% |
| 8th Installment | After 42 months of sale date | 10% |
| 9th Installment | After 48 months of sale date | 15% |
2 Year Payment Plan
| | | |
| --- | --- | --- |
| Installment | Milestone | Payment (%) |
| 1st Installment | Down Payment | 20% |
| 2nd Installment | Within 90 Days of Sale Date | 4% |
| 3rd Installment | Within 120 Days of Sale Date | 4% |
| 4th Installment | Within 150 Days of Sale Date | 4% |
| 5th Installment | Within 180 Days of Sale Date | 4% |
| 6th Installment | Within 210 Days of Sale Date | 4% |
| 7th Installment | Within 240 Days of Sale Date | 4% |
| 8th Installment | Within 270 Days of Sale Date | 4% |
| 9th Installment | Within 300 Days of Sale Date | 4% |
| 10th Installment | Within 330 Days of Sale Date | 4% |
| 11th Installment | Within 360 Days of Sale Date | 4% |
| 12th Installment | Within 390 Days of Sale Date | 4% |
| 13th Installment | Within 420 Days of Sale Date | 4% |
| 14th Installment | Within 450 Days of Sale Date | 4% |
| 15th Installment | Within 480 Days of Sale Date | 4% |
| 16th Installment | Within 510 Days of Sale Date | 4% |
| 17th Installment | Within 540 Days of Sale Date | 4% |
| 18th Installment | Within 570 Days of Sale Date | 4% |
| 19th Installment | Within 600 Days of Sale Date | 4% |
| 20th Installment | Within 630 Days of Sale Date | 2% |
| 21st Installment | Within 660 Days of Sale Date | 2% |
| 22nd Installment | Within 690 Days of Sale Date | 2% |
| 23rd Installment | Within 720 Days of Sale Date | 2% |
6 Months Payment Plan
| | | |
| --- | --- | --- |
| Installment | Milestone | Payment (%) |
| 1st Installment | Down Payment | 30% |
| 2nd Installment | Within 90 days from sale date | 30% |
| 3rd Installment | Within 180 days from sale date | 40% |
Brochure and Floor Plans
Property ID

6893

Price

AED 1,070,000

Property Type

Apartment

Property status

For Sale

a

a