Kiara Furnished Apartments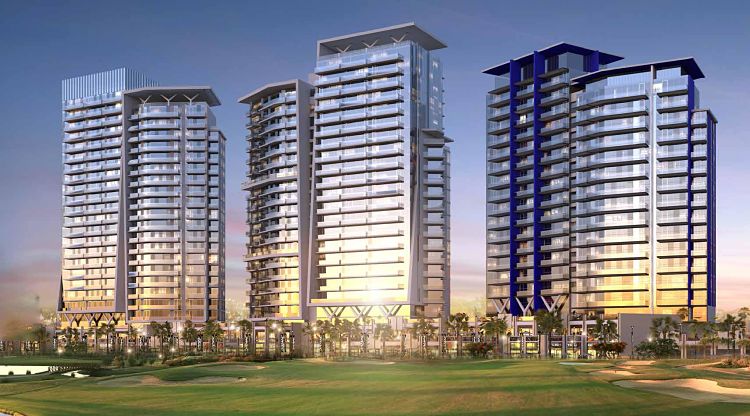 Description
Kiara is a beautifully built furnished residential apartments featuring spacious studio, 1BR, 2BR & 3BR apartments overlooking the renowned championship golf course in Damac Hills.
Nestling amongst the amazing green and sustainable community of Damac Hills, Kiara is a beautifully built furnished residential apartments featuring spacious studio, 1BR, 2BR & 3BR apartments overlooking the renowned championship golf course. Each unit designed beautifully to match the highest standards of luxury and to ensure comfortable living with breathtaking views. With spacious living rooms and large closet spaces, the houses provide with ample space for storage as well as day-to-day living with the family. These elegant apartments feature world-class amenities and leisure facilities within the building and in the community. Kiara by Damac Properties has been designed and built keeping in the mind an active and nature-driven lifestyle.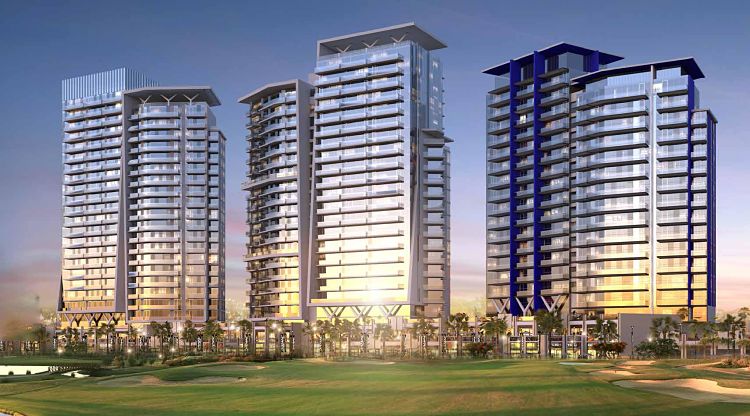 A Deeper Insight into Kiara Furnished Apartments
These magnificent apartments have been planned to be perfect. Pure art can be seen in any spot of these gorgeous apartments, and any details have been considered to make these apartments distinctive from others.
The exterior design also is not an exception.
In terms of interior design, it should be said that it has been designed in a way to look unique and special, as the materials come from reputable brands that instill the sense of luxury, modernity, and glamor, and at the same time you can experience high levels of comfort, convenience, and relaxation.
Unit features
Fitted kitchen cabinets and countertops
Balconies applicable as per unit plan
Built-in wardrobes in bedrooms
Fully-tiled bathrooms, en-suites and guest toilets wherever applicable
Shower or bathtub with shower in master bathroom
Electrical shaver point with mirror in master-bathroom
Vanity units and mirrors
Central air conditioner
Double glazed windows
Cable and telephone connections
Provision for high-speed internet access
Ceramic floor tiling
Unit furniture
Double bed with mattress in the studios and one-bedroom apartments
One double bed and a pair of single beds with mattresses in the two-bedroom apartments
One double bed and two pairs of single beds with mattresses in three-bedroom apartments
Clean sheets, pillows and bed covers
Curtains
Bedside table with drawer
Couches in one, two and three-bedroom apartments
Furniture in living rooms and studios
Breakfast table/dining table with chairs in studios and one, two and three-bedroom apartments
Settee or armchair
Coffee table
Television
Glass and tableware
Cooking utensils
Damac Properties
Damac Properties is among those reputable and well-known brands that has developed the most singular buildings in Dubai which all go beyond the traditional concept of property developing , but all are "architectural masterpieces " that dedicate you a world-class lifestyle alongside superlative location and premium amenities.
All of these were said to remind the perfection of this brand and its developments. However, it doesn't need any introduction.
Why Dubai?
Dubai is a wealthy middle-eastern city offering enormous benefits which cannot be found in any other places literally. For example, it has ranked as one of the safest places in the world that its people are the happiest. As well as this, it is among the handful countries that suggest tax-free income in order to make businesses more lucrative.
Apart from all of these, Dubai is a city that always has something to offer. For instance, you can feel the warmness of sunlight on your skin when lying in the eyeful beaches of Arabian Gulf, or spend your time in the biggest shopping mall of the world –Dubai Mall-, and you can experience the most desirable nightlife of this dynamic city, and live your dreams literally!
Property Review
As it was said earlier, the perfection can be seen in any spot of these magnificent apartments ranging from exterior and interior design which is unique to the surroundings of these apartments and the material and furniture used to make these lavish apartments even more pleasant.
Apart from these, these apartments are the "masterpieces"  artfully created by one of the most famous and trusted developers-Damac Properties- in the world. Also, they are located at one of the most hoped-for cities which offers distinguishing advantages that are not found in other places.
Last Talk
An easy payment plan has been exclusively considered for you to achieve your goals as soon as possible and live your dreams. So, let us know and we will assist you.
Payment Plan
Option 1 – 18% rebate with 2 year payment plan
| | | |
| --- | --- | --- |
| Installment | Milestone | Payment (%) |
| Deposit | Immediate | 14% |
| 1st Installment | Within 90 Days Of Sale Date | 10% |
| 2nd Installment | Within 180 days of Sale Date | 12.5% |
| 3rd Installment | Within 270 days of Sale Date | 10% |
| 4th Installment | Within 360 days of Sale Date | 12.5% |
| 5th Installment | Within 450 days of Sale Date | 10% |
| 6th Installment | Within 540 days of Sale Date | 12.5% |
| 7th Installment | Within 630 days of Sale Date | 10% |
| 8th Installment | Within 720 days of Sale Date | 12.5% |
Option 2 – 8% rebate with 3 year payment plan
| | | |
| --- | --- | --- |
| Installment | Milestone | Payment (%) |
| Deposit | Immediate | 14% |
| 1st Installment | Within 90 Days Of Sale Date | 7.5% |
| 2nd Installment | Within 180 days of Sale Date | 7.5% |
| 3rd Installment | Within 270 days of Sale Date | 7.5% |
| 4th Installment | Within 360 days of Sale Date | 7.5% |
| 5th Installment | Within 450 days of Sale Date | 7.5% |
| 6th Installment | Within 540 days of Sale Date | 7.5% |
| 7th Installment | Within 630 days of Sale Date | 7.5% |
| 8th Installment | Within 720 days of Sale Date | 7.5% |
| 9th Installment | Within 810 days of Sale Date | 7.5% |
| 10th Installment | Within 900 days of Sale Date | 7.5% |
| 11th Installment | Within 990 days of Sale Date | 7.5% |
| 12th Installment | Within 1080 days of Sale Date | 7.5% |
Brochure and Floor Plans
Project Price Range
Studio Apartment for sale in Kiara Furnished Apartments by Damac Properties at Damac Hills, Dubai

Studio

Size from – to (Sqft.)

Price from – to (AED)
1BR Apartment for sale in Kiara Furnished Apartments by Damac Properties at Damac Hills, Dubai

1BR

Size from – to (Sqft.)

Price from – to (AED)
2BR Apartment for sale in Kiara Furnished Apartments by Damac Properties at Damac Hills, Dubai

2BR

Size from – to (Sqft.)

Price from – to (AED)
3BR Apartment for sale in Kiara Furnished Apartments by Damac Properties at Damac Hills, Dubai

3BR

Size from – to (Sqft.)

Price from – to (AED)
Property ID

6841

Price

AED 953,000

Property Type

Apartment

Property status

For Sale

a

a