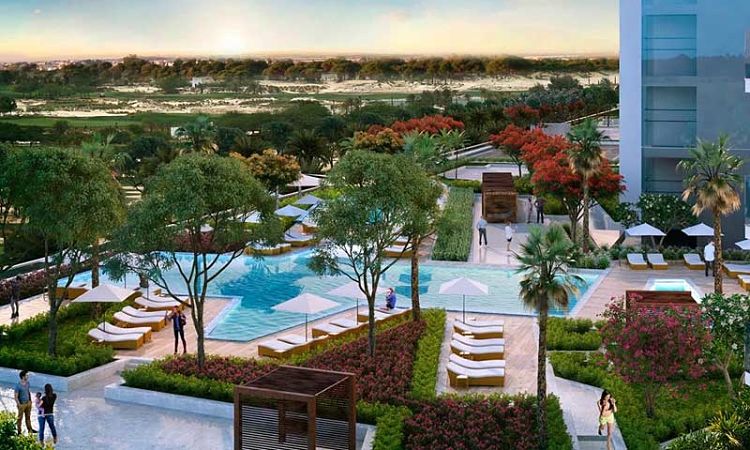 Description
Radisson Hotel Apartments are elite studio, 1BR & 2BR apartments with state of the art amenities and a very central location in Damac Hills by the much celebrated Damac Properties.
Being the very first residential and hospitality development in the Damac Hills offering a plethora of studio, 1BR and 2BR apartments in varying areas and sizes, Radisson Hotel residential apartments have definitely emerged as the talk of the town. The uniqueness of the project lies in the ideology put behind bringing a number of different designs, floor plans, infrastructural changes as well as inclusion of premium spaces like front lawns and back gardens etc within the offered studios and apartments. Apart from being exquisitely designed and conceived, the development also ensures environmental sustainability and reservation with its nature-friendly glass doors allowing natural light to enter in and illuminate the surroundings and ventilate naturally. Having already been situated in the posh vicinity of Damac Hills, the development is a definite grab for small families as well as investors.
Premium Amenities
Talking about amenities, the residential as well as hospitality development itself comes with options like in-house gym, swimming pool, and a fitness centre. Since the apartments are a part of an upscale Hotel, the development also has its own Music and Arts Center in addition to ATM's, banks, clinics, and nurseries located within the vicinity. Due to its central location in Damac Hills, Radisson Hotel is situated at a very convenient distance from cafes, diners, parks as well as a mosque standing just a few blocks away. In addition to all these facilities, the biggest and most relieving is the cutting-edge security systems installed within the vicinity giving people the peace of mind at all times.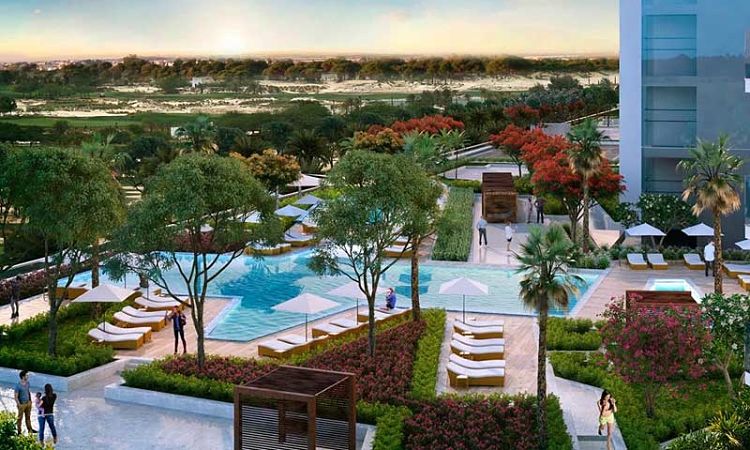 Convenient Location
As Radisson Hotel is situated in Damac Hills, Dubailand, the location is quite straight to follow and lies in the apex to all the facilities of the town.
Invest now and choose one of the following offers
30% guaranteed net returns over 3 years with a 2-year payment plan OR
Attractive 3-year payment plan OR
30% rebate with 2-year payment plan
Payment Plan
With Rental Guarantee (2-year payment plan)
| | | |
| --- | --- | --- |
| Installment | Milestone | Payment (%) |
| Year 1 | Deposit | 10% + 4% DLD |
| | After 4 months of sale date | 10% |
| | After 8 months of sale date | 10% |
| | After 12 months of sale date | 20% |
| Year 2 | After 15 months of sale date | 10% |
| | After 18 months of sale date | 10% |
| | After 21 months of sale date | 10% |
| | After 24 months of sale date | 20% |
Without Rental Guarantee (3-year payment plan) 
| | | |
| --- | --- | --- |
| Installment | Milestone | Payment (%) |
| Deposit | Immediate | 10% + 4% DLD |
| 1st Installment | Within 90 days of Sale Date | 7.5% |
| 2nd Installment | Within 180 days of Sale Date | 7.5% |
| 3rd Installment | Within 270 days of Sale Date | 7.5% |
| 4th Installment | Within 360 days of Sale Date | 7.5% |
| 5th Installment | Within 450 days of Sale Date | 7.5% |
| 6th Installment | Within 540 days of Sale Date | 7.5% |
| 7th Installment | Within 630 days of Sale Date | 7.5% |
| 8th Installment | Within 720 days of Sale Date | 7.5% |
| 9th Installment | Within 810 days of Sale Date | 7.5% |
| 10th Installment | Within 900 days of Sale Date | 7.5% |
| 11th Installment | Within 990 days of Sale Date | 7.5% |
| 12th Installment | Within 1080 days of Sale Date | 7.5% |
Brochure and Floor Plans
Project Price Range
Studio Hote for sale in Radisson Hotel by Damac Properties at Damac Hills, Dubai

Studio

Size from – to (Sqft.)

Price from – to (AED)

981,750
1 BR Hote for sale in Radisson Hotel by Damac Properties at Damac Hills, Dubai

1 BR

Size from – to (Sqft.)

Price from – to (AED)

1,161,300
2 BR Hote for sale in Radisson Hotel by Damac Properties at Damac Hills, Dubai

2 BR

Size from – to (Sqft.)

Price from – to (AED)

2,279,550
Property ID

6923

Price

AED 981,750

Property Type

Apartment

Property status

For Sale

a

a